If you are looking for a new home in Wake County or looking to relocate to the area for the first time, chances are that it's been awhile since you have familiarized yourself with the different areas of town.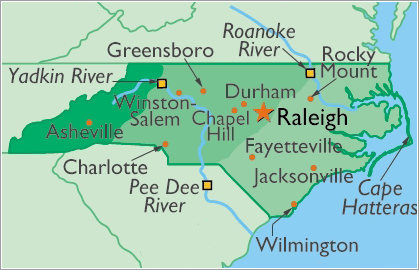 Raleigh, NC has turned into a growing metropolis and definitely changed over the last few years.  Many of it's suburbs have grown including Wake Forest, Knightdale, and Garner, however due to this impact many people have forgotten about Raleigh and just how much it has changed.
If you are looking to relocate to Raleigh or are a current Raleigh home owner it might be time for you to figure out just what you want to do.
North Hills – Home to the North Hills Mall and a variety of shopping and eateries.  North Hills is just off of I440 and miles away from Crabtree mall.
Downtown Raleigh – The Raleigh Downtown district is considered the heart of Raleigh and home to a variety of big and local stores.
South East Raleigh – Located right outside of downtown, Southeast Raleigh is home to a few shops as Raleigh connects with it's suburb Garner.
Briar Creek – Briar creek resides in North West Raleigh just between Raleigh and Durham.  Home to the Briar creek shopping center, Briar creek is seen as a great place to live who are looking for a place that is in close distance to everyone in the Triangle.
Crabtree Mall Area – Located in North West Raleigh right outside of the belt line.  The crabtree area is named after the biggest mall in Raleigh.  Also home to the Capitol Area Greenway, Crabtree mall has become the go to area for many young professionals.
South West Raleigh – is home to the college district of the town as well as Cameron Village.  Though mainly populated with college students you will find a variety of people living here from students to retired workers.
Capitol Blvd – North east Raleigh, is home to Capitol Blvd a road that drives throughout it.  Home to many shopping centers as well as what is considered the blue collar side of town.
North Raleigh – North Raleigh is composted of many lakes including Shelly and Lynn, and is the residential area of the city.
If you are looking to be a Raleigh home owner or looking to relocate to the area, it's important that you familiarize yourself with the area first.
Looking to relocate to the Raleigh area?
The Raleigh custom home building team at JM Davis Custom Homes is here to help you today. Providing custom homes for both Chatham and Wake county for over 18 years, JM Davis Custom Homes has won the recognition of an award winning luxury home builder. For more information about his services please call 919-422-9800 or drop the team a line through our contact form.